About Us
Lara Slife: Director/Writer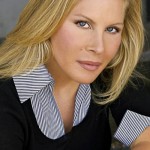 Lara Slife is currently making her directorial debut with Born To Lead: The Sal Aunese Story. She is the co-owner and managing member of Livin' Large Productions, LLC.
Through Livin' Large Productions, LLC, a boutique theatrical and film production company based in NYC and Los Angeles, she has produced several theatrical productions on the New York City stage, where it all began. Projects include works by such greats as David Mamet, Lee Blessing, Neil Simon, and John Patrick. She has several projects currently in development including an inspiring film about a Titanic survivor. She attributes her success to her unrelenting pursuit of the story!
Lara, of European descent, grew up in Columbus, Ohio. She graduated on the Dean's List with honors from TCU. Her sheer talent and aptitude for telling stories propelled her to the New York City Stage, where she began studying with various professionals from Juilliard and The Neighborhood Playhouse. Her passion led her to Los Angeles for film and continued study with the renowned coach Ivana Chubbuck. Lara had a recurring role on As The World Turns and has appeared in a number of film and television roles.
Lara is a sports enthusiast, and an avid tennis player. She is a member of the following renowned groups: SAG-AFTRA; AEA; NYWIFT; FIND and IDA.
---
George Antonopoulos: Producer
A son of Greek Immigrants, and a Colorado native, George entered The University of Colorado in the Fall of 1986, the same semester as Sal Aunese. He became a member of Phi Kappa Tau, and earned his B.A. in Economics from CU in 1991. He then earned his M.B.A. in Finance from The Leeds School Of Business in 1994, where he was also V.P. of his M.B.A. Class here at CU.
Upon graduating, off to NYC!! George integrated a career in finance and entertainment. He also formed Livin' Large Productions, LLC with Lara. George always gravitated towards the stage and performed in many NYC stage productions from playwrights such as David Mamet, Neil Simon, John Guare and many more. George has appeared on General Hospital, as well as various roles in many films.
He began crafting Born To Lead: The Sal Aunese Story with Lara to deliver this compelling, incredible story to the world. Next up is the dramatic film, SAL, which is based on Sal Aunese's life. He is a member of SAG-AFTRA, AEA, CU Alumni Association, The Buff Club, The Annunciation Greek Orthodox Church, International Documentary Association, Film Independent and many other groups. George is a donor to The University of Colorado and cherishes his Alma Mater. He was born on 08-08, which is the same number as Sal and T.C.'s high school and college numbers. What are the odds?