Born To Lead: The Sal Aunese Story
A Documentary Film by Award-Winning Director Lara Slife
Inspirational Sports Documentary, 'Born To Lead: The Sal Aunese Story' Makes Its U.S. Television Broadcast Premiere On The CBS Sports Network On Friday, August 18th!
The film will screen nationwide, Friday, August 18th, 2017 at 7:00 p.m. Eastern & 10:00 p.m. Pacific. – *Check your local listings*
This marks an historic moment for this exceptional sports documentary feature film since making it's World Premiere at the FICTS International Sports Film Festival in Milan, Italy in November, 2016, where Born To Lead: The Sal Aunese Story won 'Best Documentary Feature Film', and the film's director, Lara Slife, won for 'Best First Feature Film!'
The University of Colorado is not only a strategic partner with the Born To Lead: The Aunese Story filmmakers, but it is where Sal Aunese attended college.
Sal Aunese was Colorado's star Samoan quarterback who died of stomach cancer in 1989, and his team promptly dedicated their season to him. Through reflections from his friends, family, and teammates, as well as rare archival footage, Born To Lead: The Sal Aunese Story chronicles Sal's rise to the top as one of his team's most valuable players and his valiant battle with the disease that took his life in 1989.
"The most talented San Diego County high school football player I've ever seen play? Marcus Allen.
The second best? Sal Aunese." — San Diego Union Tribune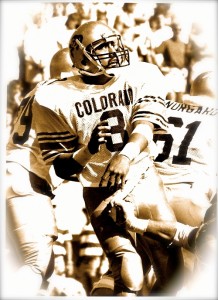 "We can all learn from Sal Aunese's leadership and strength he exemplified both on and off the field", says Lara Slife, the film's Director. "His story and inspiration still resonates today and will continue for years to come."
George Antonopoulos, the film's producer, graduated from The University of Colorado, and entered CU the same semester as Sal Aunese. George says: "It is with great pride and humility that we are able to bring this epic sports documentary film to the world."
Lara Slife (director) and George Antonopoulos (producer), the founding partners of Livin' Large Productions, LLC, a boutique theatrical and film production company based in Los Angeles, have produced several theatrical productions in New York City where it all began. Projects include work by such greats as David Mamet, Lee Blessing, Neil Simon, and John Patrick. They have several projects in development, and attribute their success to their unrelenting pursuit of the story. Lara graduated with honors from Texas Christian University.
FOR MORE INFO PLEASE GO TO BORNTOLEADFILM.COM
FOR THE BLOG SITE GO TO SALAUNESE.COM