Born To Lead Film Debut – Buffzone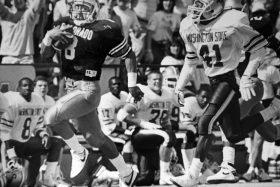 Aunese is a former CU quarterback who passed away on Sept. 23, 1989, in Boulder after a fight with inoperable stomach cancer. The film, which has been years in the making, portrayed the life of a young man who grew up in Oceanside, Calif., destined for greatness on the field. Raised in a tight-knit Samoan family, Aunese was a star player in his youth and in high school.
The film captures footage from throughout Aunese's career and also features interviews with several members of his family, past teammates and coaches in high school and college and his close friends from Boulder.
Read full article HERE